Looking at 2020 With 20/20
Published by Lance Kugler, MD on December 21, 2020
We'd Like to Take a Moment to Look Back at 2020 as We All Prepare for a New Year
This time of year, many of us are sending out holiday cards to family and friends. It's that special yearly tradition when we stop, reflect on the year, and decide which key moments warrant a mention in the annual holiday letter. Thinking about this annual holiday practice got our team at Kugler Vision in Omaha, Nebraska, thinking too.

In today's blog we want to reflect on 2020. In such unprecedented times, there's a lot to consider as we review the year. Even with the continued COVID-19 pandemic, our team feels strongly that we have a lot to be grateful for and we are happy to share this virtual holiday letter with you.

Brand New Patient Evaluation Process Rollout in June 2020
In the spring, we paused our non-emergency services to do our part to help our community flatten the curve. After this pause, we were excited to reopen to the public for vision correction procedures with additional strict COVID-19 safety protocols. Before the pandemic hit Nebraska, we had been working to integrate convenient, privacy-safe telehealth technology into our patient care model,  and after COVID arrived, this game-changing technology took on renewed importance.
In June, we were proud to roll out our all new, improved model of patient care: the 2020 EyeAnalysis consultation. The new EyeAnalysis consultation process consists of two parts:
Patients come into the office for a private EyeAnalysis assessment.

They're in and out of the office in about an hour.

Dilation is not necessary in most cases.

The clinic schedule has been tailored to reduce the traffic into the office, ensuring safe social distancing. Rigorous COVID-19 safety protocols are in place, including screening, temperature checks, and mandatory mask-wearing to protect our patients and staff.

Patients have a convenient telehealth session with their Kugler Vision surgeon.

Your surgeon will discuss the results of your diagnostic tests and give you a recommendation about which of our seven vision correction procedures is right for your eyes.

You will receive details of your VisionTrack – which visual milestones you have reached, how your recommended vision correction treatment will best suit your needs, and what to expect from your vision in the future.

These virtual appointments make discussing your vision correction options simpler and more convenient than ever, with greater flexibility in scheduling. You can have your telehealth conference in the Kugler Vision office, or you can schedule it at your own convenience and have your video chat from your home or office.

This exciting revamp of our care model elevated our patient experience, making it more convenient for patients to explore their vision correction options. It also made the process virtually contact-free, for the ultimate in safe physical distancing during the LASIK consultation process.
To see more about the advanced EyeAnalysis in action, take a look at the quick animation below.
We Welcomed Dr. Kapeles to Our Clinical Team
In August, we welcomed Matthew Kapeles, MD, to Kugler Vision and we couldn't be more proud to have him on our team. Dr. Kapeles is the second fellow to enter the intensive refractive surgery specialization program at Kugler Vision. With more people than ever seeking LASIK to free them from the hassles of foggy glasses and uncomfortable contacts, it's important to ensure that there are enough doctors to help meet that demand.

Dr. Kugler Implanted Eastern Nebraska's First Vivity IOL for Cataracts
In October, Lance Kugler, MD, became the first refractive surgeon to use the new AcrySof IQ Vivity IOL lens. The Vivity Lens is an important advancement in the treatment of cataracts and near vision changes. This new extended vision lens by Alcon restores clear vision for cataract patients by replacing their deteriorating natural lens. In the past, cataract patients could expect to return to wearing glasses after their procedures. This is no longer the case. The Vivity extended vision lens will allow more people than ever before to enjoy the freedom of clear vision without glasses and contact lenses after cataract surgery.
If you've been told you have a cataract, or suspect you may have one, it's time to schedule a cataract consultation with our experts at Kugler Vision. Not sure if you may have a cataract?
Check out our 60-second cataract self-test at the button below.




Awesome Patients Shared Their Vision Correction Journeys With Us
One of the most gratifying things about taking care of patients at Kugler Vision is hearing from them after their vision correction procedures. No matter how many times we see someone have their vision corrected, we never lose sight of the fact that it is a once-in-a-lifetime, transformative experience for them. That is why we work so hard to ensure that each patient has a world-class, positive experience with the Kugler Vision team.
This year, some patients notably gave us an inside look at their journey to visual freedom. In the fall, Jenna Broulette of the Fashionably Blonde blog had ICL vision correction with us and wrote an inspiring journal about her experience. You can read it here. She also documented her big ICL day on her Instagram page. 
Doctors are patients too! Faith Schneider, OD of York, Nebraska, also had ICL vision correction with our team. She has allowed us to document her journey in a series of brief video testimonials. We're always grateful when one of our patients opts to share their experience, and it has been a ton of fun getting to know Dr. Schneider. We know you will think so too. Check out her most recent video below!


Winning #1 Best Omaha LASIK Provider for the Fourth Consecutive Year
Wow! Thank you, Omaha! We are so honored and humbled to have been voted #1 Best LASIK in Omaha by our happy patients and community for the fourth year in a row. When we reflect back on the history of the practice, where it all started back in 2011 and where we're at today, it has been quite a road. We are proud of our team and our relentless focus on our core values and commitment to excellence. That focus has allowed us to grow and become what we are today. 
It is certainly humbling to be voted #1 LASIK in Omaha again this year. It is an honor to serve my hometown. We are grateful that our patients are happy with the experience we deliver. Their satisfaction is our top priority.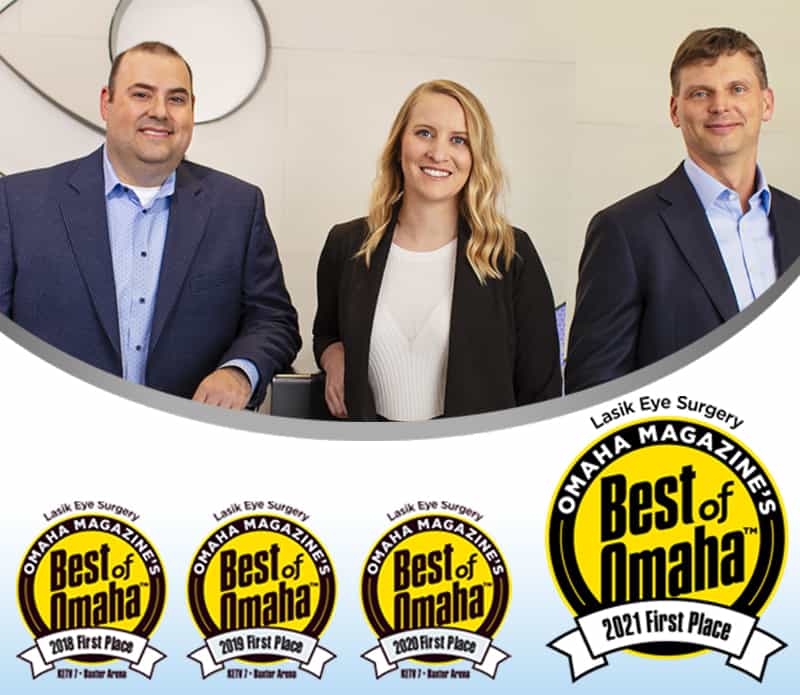 Seeing Record Surges in LASIK Demand as We Work to Help People Clear the Fog

The prolonged COVID-19 pandemic has brought many changes to everyone's daily life. But for those in the community relying on glasses to see every day, navigating the new normal has been especially difficult. Ah yes, if you're wearing glasses right now, you know exactly what we're talking about: masks making your glasses fog. It's no secret that glasses and masks are not friends. Every time you exhale while wearing glasses and a mask, the warm breath is directed up into your lenses, causing them to fog, and even creating uncomfortable and humid condensation over time. This foggy problem only becomes worse as the weather gets colder – and here we are in winter.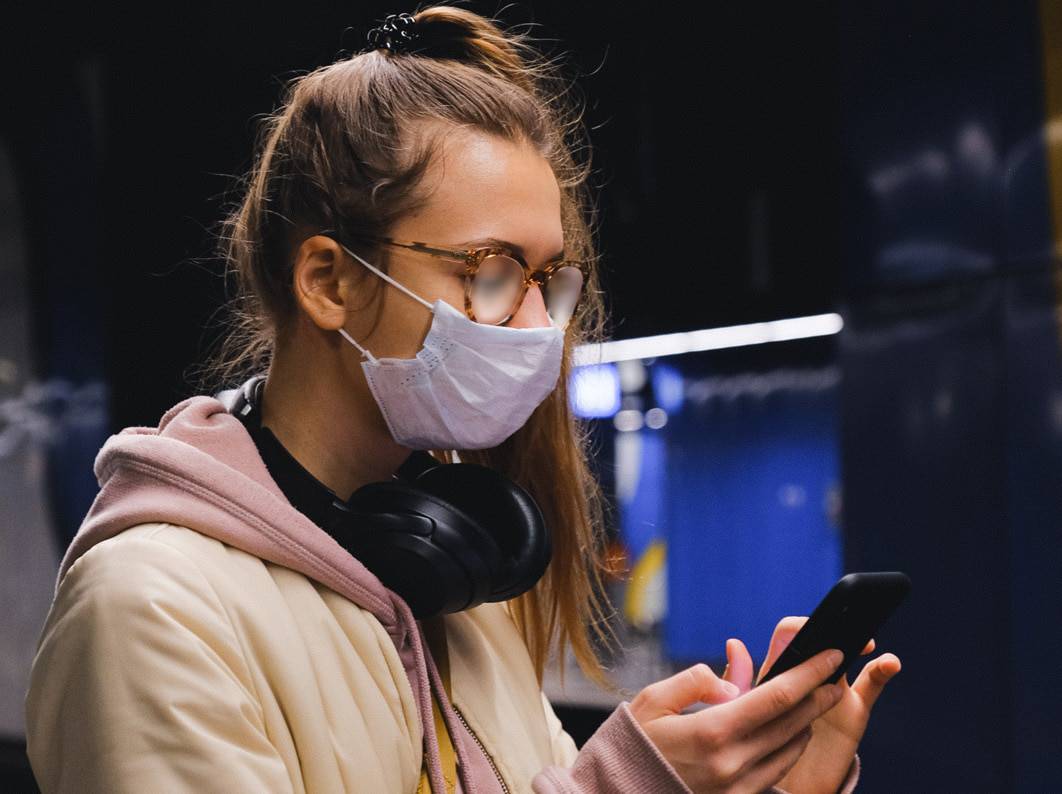 Masks are necessary to help slow the transmission of COVID-19. Fortunately, glasses (or uncomfortable contacts!) are NOT. With today's modern LASIK vision correction, there's no need to deal with them anymore. More people than ever are realizing this, and in the fall and winter of 2020, we helped record numbers of people in our Vision Correction Suite. In December alone, over 70 people decided to change their lives for the better, with vision correction.

We are excited for all our patients to be seeing the world with the crisp, clear vision they deserve. And we'll keep helping as many people as we can achieve freedom from glasses and contacts.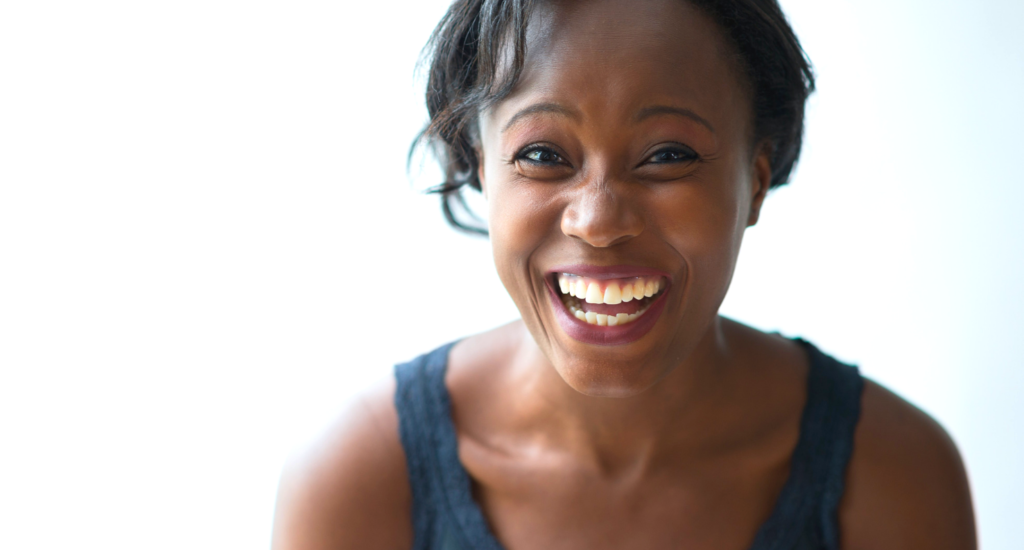 Clear the Fog With LASIK for a Fresh Start in 2021
What are you waiting for? 2021 is a brand new start. You don't need to settle for foggy glasses and the discomfort of contact lenses. Don't bring the foggy frustrations of poor vision with you into the new year. Contact Kugler Vision at 402.558.2211 to schedule a laser vision correction consultation today, or book online via the button below.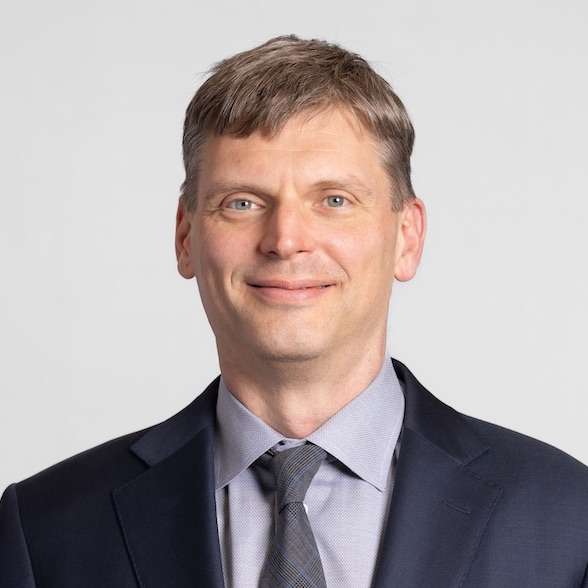 Lance Kugler, MD, is a specialist in LASIK and vision correction surgery and CEO of Kugler Vision. A proud Omaha native, he is passionate about improving lives through clear vision. Dr. Kugler serves on several national boards, and his practice is recognized internationally as a center of excellence. Dr. Kugler is one of the original founders of the Refractive Surgery Alliance, an international organization comprised of over 350 of the world's leading vision correction surgeons; he also served as its first president. In 2019, Dr. Kugler was selected as a TEDx speaker, and delivered a talk in Omaha about the worldwide epidemic of nearsightedness and refractive solutions. Dr. Kugler is an Associate Professor of Refractive Surgery at the University of Nebraska Medical Center's Truhlsen Eye Institute, has been published in many medical journals, and participates in numerous clinical studies to advance the field of vision correction surgery. Additionally, Dr. Kugler is proud to be a Board Certified Fellow of the World College of Refractive Surgery & Visual Sciences. Dr. Kugler and his wife are proud parents to five active kids. When he has a spare moment, he enjoys skiing, tennis, travel, and fine coffee.