Surgeons Who Are Gamers Are More Skilled
Published by Lance Kugler, MD on March 27, 2017
Ever wonder what surgeons do in their downtime, or if they play video games? According to a recent study, surgeons who are gamers  may be more skilled than their peers who don't play. It turns out that time at the console isn't just fun and games. The study, published in the February 2017 issue of Archives of Surgery, indicates that gaming can help surgeons hone skills that truly count in their field of expertise –  performing a precise technique.
Video game skills translated into higher scores on a surgical skills test, the study found.
Out of 33 surgeons from Beth Israel Medical Center in New York who participated in the study, nine doctors played video games at least three hours per week. Those nine doctors:
made 37% fewer errors

performed 27% faster

scored 42% better in the test of surgical skills
This is compared with the 15 surgeons who never played video games. The study does not mention what levels of benefits are shown by the doctors who play less than three hours per week.
This study supports past research that video games can improve fine motor skills, eye-hand coordination, visual attention, depth perception, and computer competency.
Does Your Surgeon Play Video Games?
At Kugler Vision, Lance Kugler, MD, does all of our vision correction procedures by manipulating instruments through a small incision or opening. He guides  his movements as he watches  a screen, which requires fine motor skills, eye-hand coordination, visual attention, depth perception, and computer competency.
Many of today's surgeons grew up when video games first became popular – arcade video games, gaming consoles, and home computer games. Some may see gaming as a hobby or a waste of time, but research indicates that the "training" surgeons received through video games may have provided them with a foundation for perfecting crucial skills in the operating room.
Kugler Vision patients may be happy to know that Dr. Kugler grew up playing
Defender

Hard Hat Mack

Breakout

Legend of Zelda

Tecmo Bowl

Doom

Galaga

Metroid

Super Mario Brothers
Today, he enjoys playing games with his kids, particularly sports games like Madden 2017 or NBA 2017, but also action games like Lego Star Wars or Need for Speed.
Learn More About Your Surgeon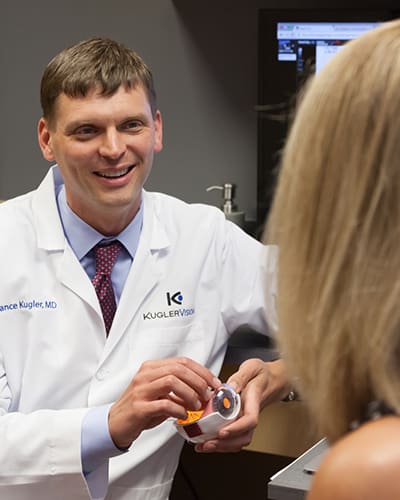 Even though one of Dr. Kugler's past-times is video gaming, that didn't get him where he is today. A great work ethic, commitment to his responsibilities, discipline, and perseverance led to  his success in becoming one of the nation's leading experts in refractive surgery. If you would like to know more about Dr. Kugler, including information on his extensive training, please read his full doctor bio or visit us for a consultation to find out if you're a candidate for laser vision correction. Call 402.558.2211 to contact us today.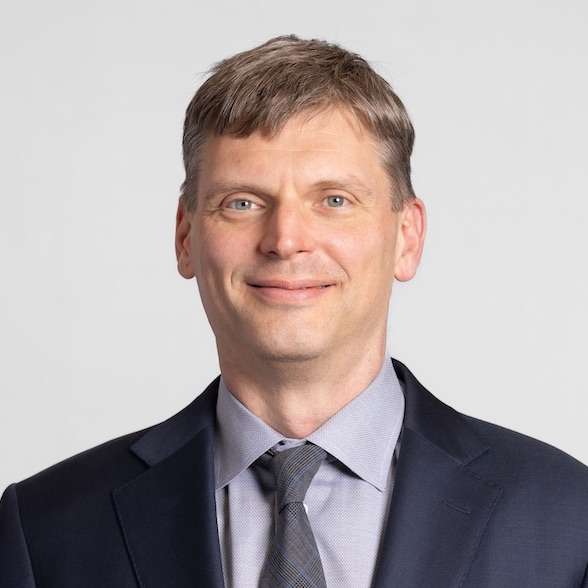 Lance Kugler, MD, is a specialist in LASIK and vision correction surgery and CEO of Kugler Vision. A proud Omaha native, he is passionate about improving lives through clear vision. Dr. Kugler serves on several national boards, and his practice is recognized internationally as a center of excellence. Dr. Kugler is one of the original founders of the Refractive Surgery Alliance, an international organization comprised of over 350 of the world's leading vision correction surgeons; he also served as its first president. In 2019, Dr. Kugler was selected as a TEDx speaker, and delivered a talk in Omaha about the worldwide epidemic of nearsightedness and refractive solutions. Dr. Kugler is an Associate Professor of Refractive Surgery at the University of Nebraska Medical Center's Truhlsen Eye Institute, has been published in many medical journals, and participates in numerous clinical studies to advance the field of vision correction surgery. Additionally, Dr. Kugler is proud to be a Board Certified Fellow of the World College of Refractive Surgery & Visual Sciences. Dr. Kugler and his wife are proud parents to five active kids. When he has a spare moment, he enjoys skiing, tennis, travel, and fine coffee.