Raindrop® Near Vision Corneal Inlay Frequently Asked Questions
1. What is Raindrop Near Vision Inlay?
The Raindrop near vision corneal inlay is a tiny, clear hydrogel disc that is implanted into the cornea – the front surface of the eye. It works by reshaping the cornea to provide clear near vision without affecting the appearance or function of the cornea.
2. How does it work?
The Raindrop Inlay works by reshaping the surface of the eye (cornea) to improve near vision.
3. How long does the procedure take?
The Raindrop procedure is a quick, in office procedure that is completed in less than 10 minutes!
4. Am I a candidate for Raindrop?
The best way to find out if you're a good candidate for Raindrop near vision inlay is to come see us at

Kugler Vision in Omaha

for a consultation, where a full ocular analysis is performed.
5. Do I need to have perfect distance vision for Raindrop?
6. When can I get back to work?
After the Raindrop procedure, you are able to go to work the very next day. However, we recommend taking it easy with only relaxing activities on the day of treatment.  
7. What size is the lens?
The Raindrop

corneal inlay for near vision

is only 2mm in diameter and approximately 32 microns thick– that's about the size of a pin head and less than half the thickness of a human hair!
8. What is it made of?
The Raindrop Near Vision inlay is made of a proprietary hydrogel material comprised of nearly 80% water, ensuring effective nutrient diffusion and transfer through the cornea.
9. How is the Raindrop inlay inserted?
It is placed within the cornea. When in position, the Raindrop Inlay changes the curvature of the cornea so the front of the eye acts much like a multifocal contact lens.
Additional Questions?
To see if the Raindrop Near Vision Inlay would be right for you, or if you have any questions, contact us today at 402.558.2211. Our friendly, knowledgeable team will help you.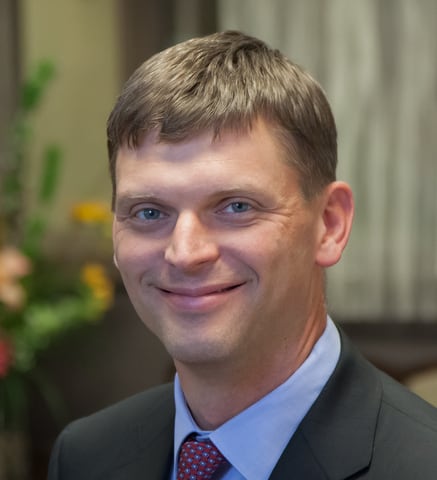 Lance Kugler, MD, is a specialist in LASIK and vision correction surgery and CEO of Kugler Vision. A proud Omaha native, he is passionate about improving lives through clear vision. Dr. Kugler serves on several national boards, and his practice is recognized internationally as a center of excellence. Dr. Kugler is one of the original founders of the Refractive Surgery Alliance, an international organization comprised of over 350 of the world's leading vision correction surgeons; he also served as its first president. In 2019, Dr. Kugler was selected as a TEDx speaker, and delivered a talk in Omaha about the worldwide epidemic of nearsightedness and refractive solutions. Dr. Kugler is an Associate Professor of Refractive Surgery at the University of Nebraska Medical Center's Truhlsen Eye Institute, has been published in many medical journals, and participates in numerous clinical studies to advance the field of vision correction surgery. Dr. Kugler and his wife are proud parents to five active kids. When he has a spare moment, he enjoys skiing, tennis, travel, and fine coffee.