Omaha Refractive Surgery Practice Announces Virtual Consult Program Catering to Central and Western Nebraska
Kugler Vision, named Best of Omaha #1 LASIK Provider, established the program
with the aim of increasing statewide accessibility to advanced vision correction options.

OMAHA – Residents of central and western Nebraska who are hoping to leave their glasses and contacts behind have a new reason to celebrate this spring. In the past, gaining access to the state's most advanced vision correction technology meant taking a day trip to Omaha. Now, for the first time ever, rural Nebraska can access this first step to better vision virtually, thanks to a new program offered by Kugler Vision.
Kugler Vision, Nebraska's industry leader in laser vision correction, is now offering virtual consultations to central and western Nebraska. The virtual consult program allows those seeking better vision to virtually meet with specialty-trained refractive surgeon Lance Kugler, MD, through a fast and convenient video chat from the privacy of their home or office. These virtual consultations allow Nebraskans across the state to find out the likelihood that they are good candidates for vision correction surgery – saving them an extended drive to the city for that initial screening.
Kugler Vision seeks to provide a better quality of life for its patients by allowing them to see the world with their best vision possible. The vision team believes deeply that the transformational experience of vision correction allows people to become their best and happiest selves. That is Kugler Vision's motivation for launching this new service for central and western Nebraska.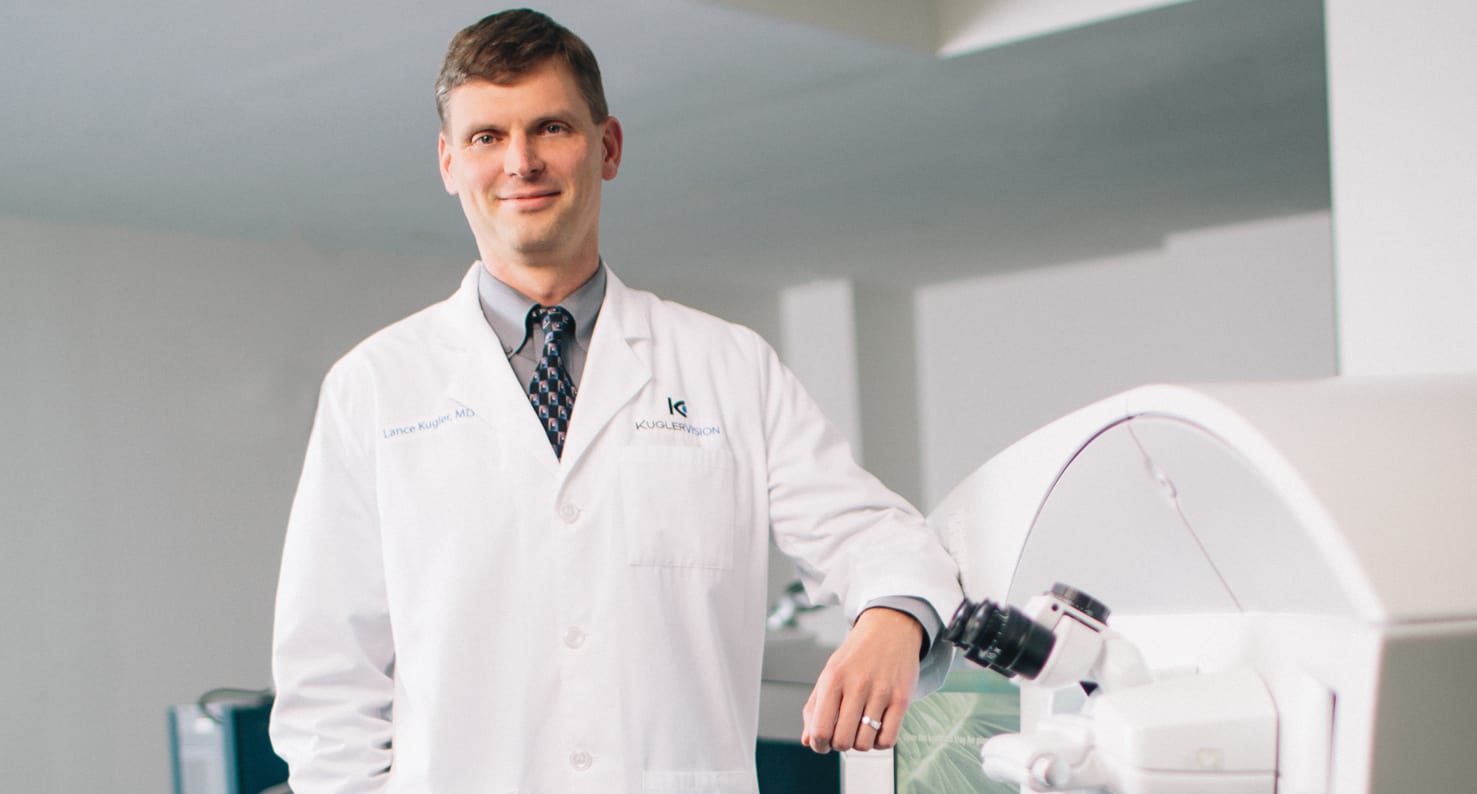 "Simply put, we do not want travel time to be a barrier for those who seek to improve their quality of life," says Dr. Kugler, surgeon and founder of Kugler Vision. In recent years, the practice has seen an influx of patients traveling from central and western Nebraska for treatment at Kugler Vision's Omaha facility. Opening online preliminary consultations to make this highly specialized care accessible to even more people was a natural next step in line with the practice's mission. "I am thrilled that this program is letting us serve more patients across the state in a way that's convenient for them. This will allow even more people to learn about their options and make the best choice for their goals and their eyes," says Dr. Kugler.
In a Kugler Vision virtual consultation, a patient signs up for a video chat appointment. Prior to the online consultation, the patient's vision-related medical records are provided to the Kugler Vision team for pre-screening analysis. During the video chat, the patient meets with a refractive counselor, and then talks with Dr. Kugler himself.
Kugler Vision is the only practice in the region to specialize in all seven vision correction procedures available today. Dr. Kugler discusses these with each patient, and recommends the option best suited to their unique needs – for a highly customized treatment plan. The virtual consultation takes only about 15 minutes, and the patient can ask Dr. Kugler as many questions as they like so that they conclude the screening with a firm grasp of their vision correction options.
"A virtual consultation is not a replacement for an in-person EyeAnalysisTM diagnostic exam, but it's a great way to find out about your options and determine if it makes sense for you to move forward," says Jolene Palmquist, Kugler Vision's nurse and refractive surgical counselor. "Kugler Vision has always been dedicated to staying on the forefront of technology for the purpose of improving our patients' lives. Technology is supposed to make our lives more convenient, and we're doing that with this virtual consultation program. It's simple. And life-changing."
To celebrate the launch of this new service, Kugler Vision is offering virtual consultations at no cost to central and western Nebraskans for a limited time. It's a unique way for patients to get to know and meet their surgeon before they even walk in the door. In just 15 minutes, a virtual consult has the potential to change the rest of a patient's life.
Dr. Kugler is available to the media to discuss the virtual consultation program, advances in vision correction treatment, and the world-class care provided at Kugler Vision.
More About Kugler Vision
Kugler Vision is a world-class refractive surgery center located in the middle of the country, making Nebraska a destination for outstanding vision correction outcomes. As a patient-centric practice, Kugler Vision specializes in procedures to reduce or eliminate reliance on glasses and contact lenses. Dr. Kugler serves as the director of refractive surgery for the University of Nebraska Medical Center, is a founder and first president of the Refractive Surgery Alliance, and participates in numerous FDA clinical trials.
April 17, 2018
For Immediate Release
Contact: Stephanie Bradley
Office: 402-558-2211