Eye Doctors Are LASIK Patients Too
Published by Lance Kugler, MD on November 8, 2016
Lance Kugler, MD founder and Physician CEO of Kugler Vision in Omaha, NE is a Nebraska native who is a Cataract and LASIK specialist. Dr. Kugler was an excellent candidate for LASIK.
"I had fairly bad nearsightedness for most of my life. I had LASIK in both eyes and it was an absolutely transformational experience. My wife also had laser surgery and agrees it is one of the best things she has ever done."
– Lance Kugler, MD
Read Dr. Kugler's full LASIK Story below!
I was 10 years old when I first started wearing glasses. I can remember looking out the school window at Oakdale Elementary at the field and it being incredibly blurry. In the classroom, I remember moving up closer and closer to the board until my teacher told my parents that I was not seeing very well and needed to see an eye doctor.
I went to an ophthalmologist and was prescribed glasses. I remember looking out the same window at the same field at Oakdale with my glasses on, and I remember how crisp and clear everything was and was blown away at how bad my vision had been.
Life with Glasses
With glasses came many new frustrations. Glasses made my vision better but made it harder for me to do things that I liked to do. For example, when I was in the third grade, I played basketball and had trouble at practice. I didn't want to play basketball with my glasses on, but I had trouble seeing the players at the end of the court without them.
Life with Contact Lenses
I had glasses up until sixth grade and transitioned to contact lenses. The transition from glasses to contacts was a big deal. It was a big deal learning how to put contacts in, to touch my eyes and how to properly take care of them. Right away, I found myself frustrated with contacts.
For example, I remember scratching my eye while I was getting ready for a party in seventh grade at Westside Middle School. My eye had an abrasion. I was really uncomfortable and wasn't able to wear my contacts. Those things seemed to happen all the time.
I also remember in college, I slept in them when I shouldn't. My eyes were really dry and irritated and had lots of trouble with comfort and vision quality. Life with contacts was just a frustrating time.
LASIK – On the Other Side
So many people are afraid going into LASIK because they assume it's going to be a scary procedure. But LASIK is truly an incredible experience. I remember laying there thinking "Wow, this is it! This is when I become a person who can see the world without needing prosthetic eyewear."
Laying there on the procedure bed, I was trying to enjoy every second of it because I knew how quickly it was going to go. I knew that I would never be able to go through that experience again, so I really wanted to relish that experience.  
Life After LASIK
LASIK is incredible. Here I had this sudden change where I went from being somebody who had a handicap, who couldn't interact with the world normally, to somebody who could wake up and go without glasses and contacts the entire day! From the moment I wake up to the moment I go to bed, I am able to see and interact freely with the world. LASIK has been an incredible transformation in my life.
For a long time after LASIK, every morning I would wake up and I would reach over to the nightstand for my glasses. It was really incredible what a habit it is when you've done it your whole life, and you literally don't get out of bed without putting glasses on first. That was a tough habit to break. I kind of laugh at myself when I'd catch myself reaching for my glasses when I didn't have to.
Today, I feel much more comfortable since having LASIK doing things such as swimming, being in hot tubs or steam rooms because the chance of eye infection is really high in those environments. Not having contacts in makes me feel so much better about those sorts of activities. I feel better about skiing, and traveling is much easier not having to deal with solutions or contact lenses cases. It's just very freeing in terms of the ability to interact with the world.
Why Choose Us?
"Refractive Surgery is much more than a job to me–it's a passion. It is a tremendous privilege to spend my days combining skills, expertise, and incredible technology in order to make lives better for people. At Kugler Vision we believe that a life without the barriers of glasses or contact lenses is a better life, and we are dedicated to helping our patients reach their maximum human potential."
– Lance Kugler, MD
Thank you for reading Dr. Kugler's LASIK Story. We invite you to read what our many patients have to say about their experience at Kugler Vision and how LASIK has transformed their life on our website or our Facebook page.
Vision correction surgery is a big decision! That's why we celebrate our patients when they decide to change the view of their life by trusting us with their vision.
Transform Your Life with LASIK
At Kugler Vision, we believe that a life without the barriers of glasses or contact lenses is a better life, and we are dedicated to helping our patients reach their maximum potential. LASIK is life-changing, and we want you to know just how transformational it truly can be.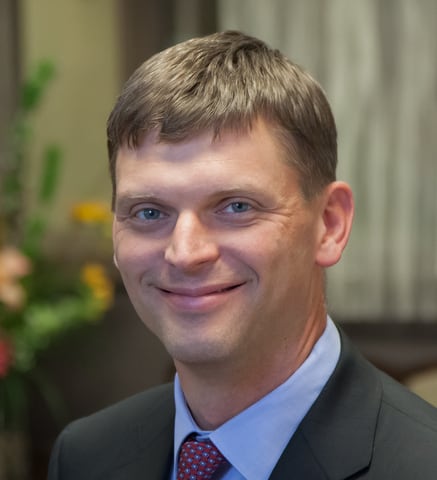 Lance Kugler, MD, is a specialist in LASIK and vision correction surgery and CEO of Kugler Vision. A proud Omaha native, he is passionate about improving lives through clear vision. Dr. Kugler serves on several national boards, and his practice is recognized internationally as a center of excellence. Dr. Kugler is one of the original founders of the Refractive Surgery Alliance, an international organization comprised of over 350 of the world's leading vision correction surgeons; he also served as its first president. In 2019, Dr. Kugler was selected as a TEDx speaker, and delivered a talk in Omaha about the worldwide epidemic of nearsightedness and refractive solutions. Dr. Kugler is an Associate Professor of Refractive Surgery at the University of Nebraska Medical Center's Truhlsen Eye Institute, has been published in many medical journals, and participates in numerous clinical studies to advance the field of vision correction surgery. Dr. Kugler and his wife are proud parents to five active kids. When he has a spare moment, he enjoys skiing, tennis, travel, and fine coffee.