If you are interested in laser eye surgery for vision correction, like LASIK, Kugler Vision is the best choice for you. Why choose us? Our mission is to maximize the human experience for our patients by helping them see the world with the best vision possible. We want them to feel empowered and confident, and live life with energy and vitality. Kugler Vision is a lifestyle enhancement center committed to empowering our patients and giving them a life without glasses and contact lenses.
Laser vision correction is a transformational service we offer through an unparalleled patient experience. Kugler Vision is about more than simply correcting vision – we emphasize the patient experience and a complete lifestyle change. It's our mission to help you achieve your vision goals, so you can live a life free from visual barriers.
Exceptional Outcomes and Care
People choose us over other providers because of Lance Kugler, MD, and Kugler Vision's reputation for excellent outcomes and patient care. Patients will feel comfortable, welcome, confident, and knowledgeable in their decision-making process with us.
Our goal is to provide our patients with the most incredible experience possible. Undergoing vision correction surgery is a life-changing event, and we strive for every detail and every moment to be exceptional. Our patients leave Kugler Vision feeling confident they received the best possible evaluation, treatment, outcome, and experience.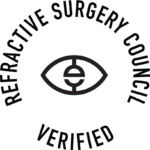 Kugler Vision is proud to be part of the RSC Verified program. The seal reflects our commitment to providing you with the information you need to make the right decisions for your vision correction. The RSC Verified seal also represents a promise and a standard for information that is unbiased and based on the latest science. Information you read with the RSC Verified seal has been developed under the guidance of the Refractive Surgery Council and meets the highest standard for quality and accuracy. Information with the RSC Verified seal will ensure you have the information you need to make an informed decision about your vision correction options.
Vision Correction Is:
safer than contact lenses

a life-changing, transformative experience

available to approximately 90 percent of people who wear glasses or contact lenses
Don't Take Our Word for It
We don't just want you to take our word for it – hear what our patients have to say about their experience at Kugler Vision and how their lives changed after vision correction. Read our patient stories or watch them now. We celebrate our patients when they decide to change the view of their life by trusting us with their vision.
Set Your Sights on a Bright Future
Regain and maintain the clear vision that you deserve. When you partner with us, you can anticipate freedom from visual barriers, like the hassles of glasses and contacts, so you can get the most out of life.