Dr. Kelly Kiser, MD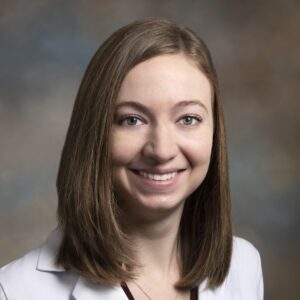 CURRICULUM VITAE
Kelly Kiser, MD
EDUCATION 
Residency: Washington University in St. Louis Department of Ophthalmology
July 2020 – June 2023
Internship: Washington University in St. Louis Department of Internal Medicine
June 2019 – July 2020
Medical School: University of Texas Southwestern Medical Center
July 2015 – May 2019
College: Southern Methodist University
Magna Cum Laude
August 2011– May 2015
Bachelor of Science in Biology
Bachelor of Arts in Spanish
PUBLICATIONS 
Gillings M, Mastro A, Zhang X, Kiser K, Gu J, Xing C, Robertson D, Petroll M, Mootha V.  Loss of Corneal Nerves and Corneal Haze in Fuchs' Endothelial Corneal Dystrophy Patients with the TCF4 Trinucleotide Repeat Expansion.  Ophthalmology Science. 2022. 
Kiser K, Matthews J, Huang A.  Mucor Keratitis.  Women in Ophthalmology Conference 2022.
Kiser KA, Hong AR, Lubniewski A, Huang AJW, Margolis TP. Topical steroids to the superior bulbar conjunctiva for the treatment of superior limbic keratoconjunctivitis (SLK). Ocul Surf. 2021 Dec 6.
Kiser K, Webb-Jones KD, Bowne SJ, Sullivan LS, Daiger SP, Birch DG. Time Course of Disease Progression of PRPF31-mediated Retinitis Pigmentosa. Am J Ophthalmol. 2019 Apr.
Kiser K, Sweeney A, Yen M, Burkat C.  Punctal Stenosis. Eyewiki Article.  Originally published 2018.
Kiser KA, Matharu KS, Sweeney AR, Yen MT. Stenotrophomonas maltophilia Causing Recurrent Acute Canaliculitis. Ophthalmic Plast Reconstr Surg. 2018 Nov/Dec.
Bennett LD, Klein M, Locke KG, Kiser K, Birch DG. Dark-Adapted Chromatic Perimetry for Measuring Rod Visual Fields in Patients with Retinitis Pigmentosa. Transl Vis Sci Technol. 2017 Aug 9.
HONORS/AWARDS
Alpha Omega Alpha
2019. University of Texas Southwestern Medical Center
President's Scholar
2011-2015. Southern Methodist University.
Phi Beta Kappa
2015. Southern Methodist University