An optometrist trades in her progressives for the KAMRA® inlay on Good Morning America
Published by Lance Kugler, MD on September 11, 2017
Dr. Donna Glenn, 52, is an optometrist in Maryland. She has spent decades helping her patients find solutions for their vision problems from glasses and contact lenses, to LASIK and cataract procedures at her practice, Dr. Donna M. Glenn & Associates.
Last year, Dr. Glenn went from doctor to patient, as she became frustrated with a vision problem of her own. Dr. Glenn had presbyopia, a natural condition of the eye that affects everyone as we age and commonly begins to occur around the mid 40s to mid 50s. The natural lens of the eye becomes stiff as we get older, and this loss of flexibility makes it more difficult to focus when we read.
"I always enjoyed great vision, but then in my late 40s, early 50s, I started to need reading glasses for certain occasions," Dr. Glenn explained. "Around age 50, I needed them more and more, so I purchased a pair of really cute frames for my progressive lenses, the no-line bifocal. I started to wear those more and more, and I became very frustrated. I had to wear them all the time, especially in the exam room. I couldn't see, my handwriting became sloppy, I couldn't even write neatly anymore unless I had my glasses on, and I just didn't feel like myself. I always enjoyed great vision. Now all of a sudden, I'm wearing these progressive lenses."
"I started to really empathize with my patients and what they were going through. I had to wear glasses all the time and I started to feel old. That's when I found out about the KAMRA corneal inlay from Dr. Holzman."
Dr. Andrew Holzman of TLC Laser Eye Center (Washington, DC) and Dr. Glenn had worked together for years, and Dr. Glenn had referred numerous patients to the Washington, DC-based ophthalmic and vision correction surgeon. At a lecture for eye care professionals, Dr. Holzman explained how the KAMRA inlay could help presbyopic patients. As Dr. Glenn slipped on her progressives and learned about the inlay, she realized she might be a KAMRA inlay candidate.
The KAMRA inlay is a tiny mini-ring, smaller than a contact lens and thinner than a human hair. The inlay sits in the first few layers of the eye known as the cornea and only allows focused light to enter the eye, much like the aperture on a camera lens. The KAMRA inlay lets patients, like Dr. Glenn, have clear up-close vision for reading and working, while maintaining their good distance vision. https://kamra.com/kamra-inlay/.
When Dr. Holzman determined that Dr. Glenn was a candidate, he had another surprise. Her procedure would be featured on Good Morning America to help millions of Americans like her learn how the KAMRA inlay can help restore reading vision.
Cameras followed Dr. Glenn as she talked to producers about her frustrations with her reading vision. They also filmed the procedure with Dr. Holzman.
It may take several months before the effect of the KAMRA inlay is fully achieved, but Dr. Glenn began to enjoy the benefits within a few days. While her vision was good after the procedure, it was a trip to the grocery story that brought it all into focus.
"I had the procedure on a Monday afternoon, and that following Sunday night, I went to the grocery store. I was in a rush, it was eight o'clock, I was getting food for my son's school lunches. I was in the self-checkout lane, which I love, and I picked up a lemon and punched in the little code on the produce sticker. I still remember it was 4053. I got everything punched in, and I ran to my car, because I wanted to get home," Dr. Glenn said.
"I sat in the car and I realized, oh my gosh, I didn't put on my progressives. I had been putting them on to punch in the labels. That's when it really hit me that the KAMRA inlay was benefiting me. I took a picture of that lemon and the label, and I sent it in a text to Dr. Holzman."
"That night was eye opening, no pun intended. That's when I knew it was helping and that's when I really started to notice things and appreciate that it was doing its job."
It has been over a year since Dr. Glenn had her KAMRA inlay procedure.
"It's been wonderful. I pick things up, I read them, I don't even think about stopping to put on reading glasses. I haven't put those progressive glasses on since."
"My patients now ask me 'What do you do?' They want to know why am I sitting there without glasses?" And that is when Dr. Glenn tells them all about the KAMRA inlay and shares her story about how a lemon changed the way she saw things.
For people looking to reduce dependence on reading glasses, progressives, bifocals or contact lenses for everyday activities, as Dr. Glenn was, the KAMRA inlay could be a solution.
Check your suitability and talk with our doctors to see if the KAMRA inlay may be right for you.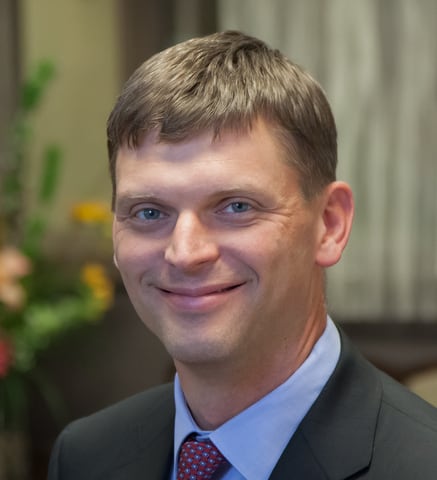 Lance Kugler, MD, is a specialist in LASIK and vision correction surgery and CEO of Kugler Vision. A proud Omaha native, he is passionate about improving lives through clear vision. Dr. Kugler serves on several national boards, and his practice is recognized internationally as a center of excellence. Dr. Kugler is one of the original founders of the Refractive Surgery Alliance, an international organization comprised of over 350 of the world's leading vision correction surgeons; he also served as its first president. In 2019, Dr. Kugler was selected as a TEDx speaker, and delivered a talk in Omaha about the worldwide epidemic of nearsightedness and refractive solutions. Dr. Kugler is an Associate Professor of Refractive Surgery at the University of Nebraska Medical Center's Truhlsen Eye Institute, has been published in many medical journals, and participates in numerous clinical studies to advance the field of vision correction surgery. Dr. Kugler and his wife are proud parents to five active kids. When he has a spare moment, he enjoys skiing, tennis, travel, and fine coffee.