Advanced Cataract Surgery: More Than Clearing Your Vision
When cataracts advance to the point that they start to affect daily life, doctors often suggest surgery to clear away and replace the clouded lens. With basic cataract surgery, Lance Kugler, MD of Kugler Vision in Omaha, Nebraska, will replace your clouded lens with a clear intraocular lens (IOL) during laser cataract surgery, but most patients will still rely on glasses following the procedure.
Advanced laser cataract surgery integrates technologies that can increase the accuracy of the treatment, which leads to better visual outcomes. The use of advanced lens removal technologies and premium IOLs that can correct for presbyopia and astigmatism mean that you can not only get back clear vision, but you may have the ability to enjoy the crisp, vibrant vision you had when you were younger.
The ORA System® guides the use of these advanced technologies and enables your surgeon to make sure the IOL is perfectly selected and completely placed, which helps give you a better visual outcome.
Why ORA-Guided Advanced Cataract Surgery? ORA-Guided Cataract Surgery Provides You the Tailored Results You Want.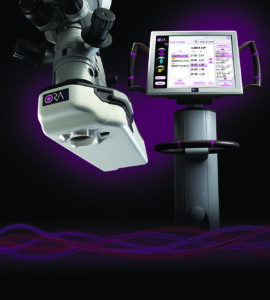 It used to be that a surgeon had to wait weeks after surgery to establish your vision results. Thanks to ORA, this is no longer the case. Now, during the treatment, your surgeon can measure your eye. ORA measurements are taken after the cataract is cleared away, when your surgeon has a clear view, allowing him to customize the treatment to your unique eye and refine your visual outcome.
Regardless of which premium cataract treatment you and your surgeon choose, you can feel confident that by adding the ORA System®, you'll receive the best possible results.