Matt Schick, an ESPN television and radio host, will travel to Kugler Vision from North Carolina to explore laser vision correction options for crisp, clear vision.
As an ESPN television and radio host, Matt Schick crisscrosses the country throughout the year. "In the Fall I'm traveling to Connecticut to host  'College Gameday' on the radio. In the winter and spring I'm traveling to campuses for various play-by-play commitments," he says. While leaving his family for periods of time can be hard, there's another thing about traveling that causes an issue – the hassles of relying on glasses and contacts. Soon, Matt will be flying to Omaha to see a different sort of team – the internationally recognized laser vision correction experts at Kugler Vision.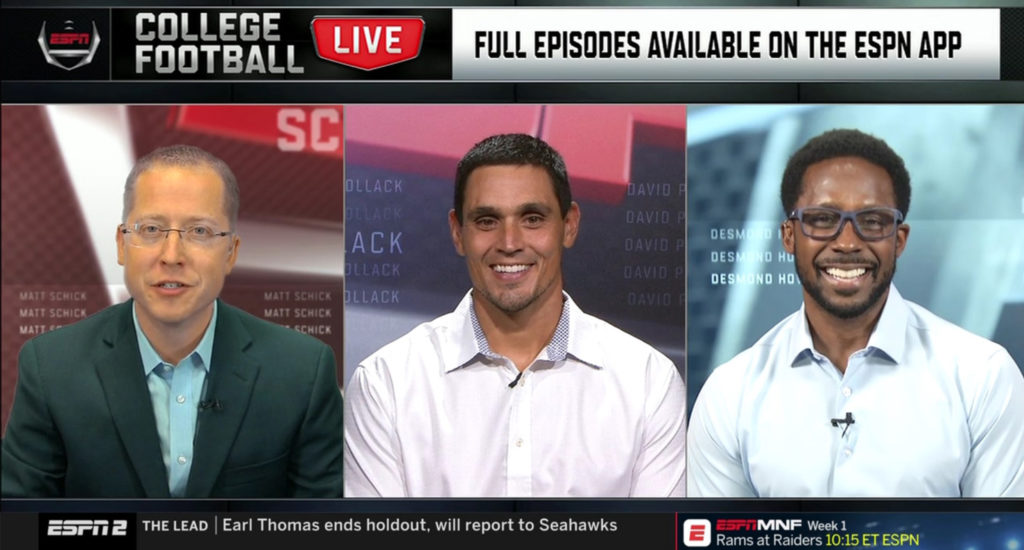 Turning a Passion for Sports Into a Successful Sportscasting Career
Matt is the definition of a homegrown success. His first TV sports anchor post out of college was at NTV in Kearney, Nebraska. In 2005, he moved to Omaha to work with the locally lauded KETV NewsWatch 7 group as a sports anchor and reporter. Eventually, he teamed with fellow sports broadcast professional Nick Bahe and created the Schick and Nick Show covering all things sports via NRG Media's 1620 The Zone radio station.
Matt moved to North Carolina in 2012 with his wife, Kelly, who is from Lincoln. Even after seven years away from the Midwest, the Schicks think of the Cornhusker state as home. On July 8,  they will make the trip back together for laser vision correction at Kugler Vision in Omaha. 
Juggling a TV Career, Parenting, and… So. Many. Glasses.
Matt has depended on glasses for nearly 25 years because his eyes cannot tolerate the irritation of contacts. Soon, he'll get modern LASIK at Kugler Vision. So what motivated Matt to make the change?

The Schicks have four young children and are no strangers to late night wakeups. Not having to scramble for glasses just to see what time it is or to check on a child who has woken up is what both Schicks are looking forward to. When asked what he thinks will be the best thing about the LASIK life, Matt responded: "Waking up and not needing to do anything extra just to see! It will be nice to not need to wear glasses every second of my waking hours, and showing my kids how Dad used to look."
The "aha moment" that motivated Matt to embrace LASIK and overhaul an entire way of life is all about finances. He says when he and his wife realized how much they were spending on prescription glasses, sunglasses, and his wife's contacts, stopping that cycle was a "no brainer." Plus, at his recreational basketball and football games, he was no longer going to be the only guy with glasses on the court or the field (elbows to the nose – yikes!). It's easy to see why he was eager to have LASIK. 
And finally, there are many (highly visible!) downsides to being a busy dad and TV personality who is constantly juggling multiple pairs of glasses. "Once I was doing play-by-play of a football event Oregon," recalls Matt. "I was wearing my prescription sunglasses while we were off camera. I forgot to take them off for the on-camera portion. So there I was, a professional ESPN anchor wearing sunglasses on TV." With so much to remember on a daily basis, Matt is excited that glasses are finally something he can forget about.
Going Glasses-Free Is a Game Changer
If you follow college football with Matt this fall, you'll see his new, glasses-free look. When asked if he thinks anyone will notice, he quipped, "If people don't notice my new look, then maybe they need LASIK!" All jokes aside, Matt says LASIK is something he knows will have a powerfully positive and transformative effect on his life. "Seeing myself glasses-free is something I know viewers can quickly adjust to. Let's just hope my kids recognize me."
Up Your Game With Crisp, Clear, Vision
If you're still relying on glasses and contacts to see clearly, it's time to make a change and up your game with modern LASIK. To find out if LASIK could be an option for your eyes, take our quick LASIK self-test, or reserve your spot with our doctors by booking online today. 
Lance Kugler, MD, is a specialist in LASIK and vision correction surgery and CEO of Kugler Vision. A proud Omaha native, he is passionate about improving lives through clear vision. Dr. Kugler serves on several national boards, and his practice is recognized internationally as a center of excellence. Dr. Kugler is one of the original founders of the Refractive Surgery Alliance, an international organization comprised of over 350 of the world's leading vision correction surgeons; he also served as its first president. In 2019, Dr. Kugler was selected as a TEDx speaker, and delivered a talk in Omaha about the worldwide epidemic of nearsightedness and refractive solutions. Dr. Kugler is an Associate Professor of Refractive Surgery at the University of Nebraska Medical Center's Truhlsen Eye Institute, has been published in many medical journals, and participates in numerous clinical studies to advance the field of vision correction surgery. Additionally, Dr. Kugler is proud to be a Board Certified Fellow of the World College of Refractive Surgery & Visual Sciences. Dr. Kugler and his wife are proud parents to five active kids. When he has a spare moment, he enjoys skiing, tennis, travel, and fine coffee.